February 22nd, 2022
Posted by Urban Edge
All, Charity, News
Back in 2019, when Stamford-based mental health charity, MindSpace, was looking for a permanent home from which to deliver its much-needed activities, a team of volunteers from Urban Edge stepped up to help refurbish an unoccupied building on Broad Street in the middle of the town. Two years on, and despite the emergence of a global pandemic, MindSpace is now successfully delivering a range of friendly and safe events from the new Broad Street premises, as well as using it as a space to support people with the skills and confidence to be more comfortable having conversations about mental health issues.
Tom McNamara, Director, comments: "Connecting to the local community and giving something back to the area that has contributed so much to the practice's success has always been at the forefront of our vision. Helping a local charity such as MindSpace turned out to be a brilliant few days, with everyone just getting stuck in and going for it."
MindSpace and Urban Edge met at the Stamford Mercury Business Awards earlier in 2019, where MindSpace won 'Best Social Enterprise' category and we picked up the prize for 'Large Business of the Year.'
Reflecting back on it now, Helen Howe at MindSpace, says: "The timing was perfect. Urban Edge approached us as they were looking to help a local charity with a hands-on project and we had this major refurbishment that also needed some expertise on the planning process. Urban Edge worked up some alternative designs for the new frontage and finalised a professional elevation to show to the planners."
When it came to hands-on work, our team ripped up old flooring, stripped wallpaper, cleared the garden, and redecorated the interior. The design and colour scheme had to deliver a series of flexible spaces to house MindSpace's range of activities, from training sessions to informal tea and chat to relaxing spaces for one-to-one conversations. The whole space, inside a listed building, had to project feelings of safety and relaxation, welcome and comfort.
Working from the MindSpace members' brief of 'everything you wouldn't expect and not institutional', our interior design team took inspiration from MindSpace's logo and the warm brick of the existing exteriors to create a series of rooms, lightly divided with natural timber slat screens, and furnished with comfortable, domestic style furniture. Rich blue highlighted some of the walls, with splashes of deep orange to provide focal points, and soft grey shades connected the interior with the new front and signage.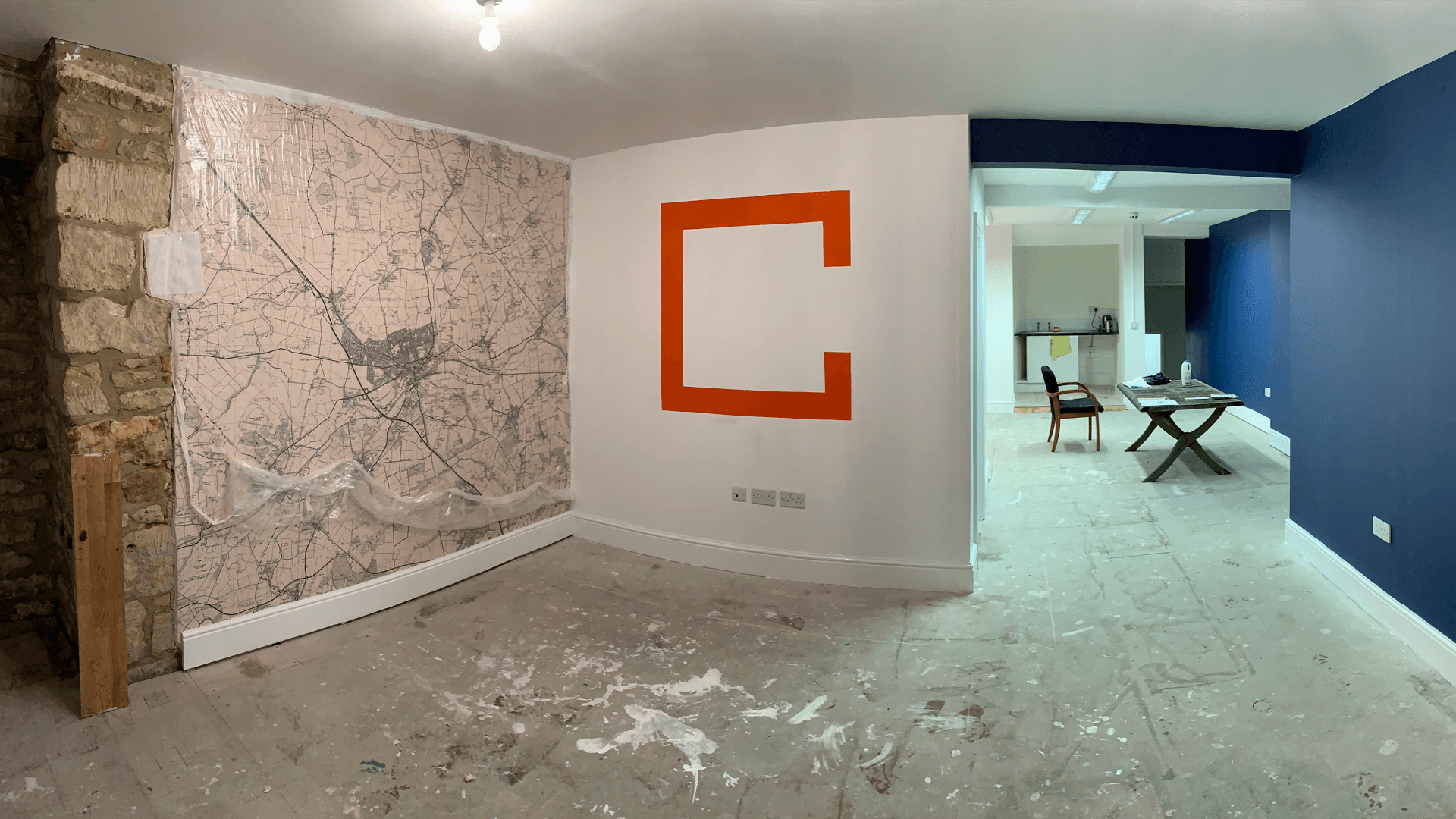 A rich blue highlighted some of the walls, with splashes of deep orange providing focal points
Ian Townsend and Sarah Steinberg were two of our staff who helped over the four days, making good the walls, painting and adding the vibrant colours to make the rooms buzz.
Explains Ian: "The original building décor was a very dismal and worn-out beige, so freshening up all the walls and bringing in the hot colours really made a difference. It was a great experience, doing something different and working with other team members that I didn't usually get to work with. Whilst it was fun to do, it was also incredibly fulfilling to create something positive for the community."
Continues Sarah: "Originally I didn't know much about MindSpace and its work, but helping refurbish the building and talking to the people there brought it home to me how wonderful it was to create a community hub that would be helping so many people in so many ways."
"The new spaces were an instant hit, providing our members with a constant, familiar, inclusive environment," confirms MindSpace's Helen Howe.
With the Broad Street premises now fully operational, MindSpace took the momentous step of signing a full lease of the building in February 2021 and is looking to expand its opening times and put on more activities, as well as opening its doors to other regional health services and organisations to deliver their activities.
Concludes Ian: "I know from my own family experience of mental health issues how important it is to have a place to go where you feel safe and welcome, just to get out of the house, meet people and have someone to listen to you without judgement. It was a very enjoyable few days and in an incredibly short period of time we helped create a community resource that will support others for many years."
Tom sums up: "As architects and designers we have a set of skills that we can use in any sector, from later living to warehousing, but when we are able to help an active local charity in the vital work they do, it adds an extra level of meaning. Design – interior or exterior – can have a real, positive, impact on the people who use the spaces and it's exciting to see how MindSpace are taking forward and expanding the help they give the local community."
For more information about MindSpace and the services it offers, please visit their website.