The death of the retail park has been greatly exaggerated. In this two part article, Senior Associate Director, Dave Frost looks at why and how relatively straightforward retail park facelifts can be a profitable alternative to complete redevelopment.  
The news on the future of retail parks is mixed. Although recent LDC data suggested vacancy rates across UK retail parks had risen sharply between the first half of 2018 and the end of the first quarter of this year, the report also revealed that some brands are actually starting to increase their retail park presence. Our own experience supports this, and suggests that retailers such as Lidl, Aldi, Home Bargains, Food Warehouse, JD Sports and B&M are continuing to expand out of town.
In addition, the BRC/Springboard monitor covering the four weeks 30 June – 27 July 2019 indicated that retail parks are bucking the trends in non-online shopping. As high street footfall declined by 2.7% and shopping centres by 3.1%, retail park footfall increased by 1.2%.
So with this mixed picture, what is the future for retail parks in the UK and is a beautifully designed refurbishment, bringing in a wider range of retail outlets, adding leisure options and generally trying to persuade families to linger, the key to success?
Enhancing the offer
Certainly, refurbishment is a valid option, with landlords looking to improve and enhance their assets, preferring to retain and attract tenants, rather than repurpose for alternative use. Over the last 18 months we have completed four new build retail park projects, but in the same period we have also completed several successful retail park facelifts. Our focus is to improve the commercial viability and sustainability of the development by creating renewed appeal and interest in the shopping park.
Diane Wehrle, Springboard Marketing and Insights Director, is quoted as saying "Consumer demand is ever more polarised between convenience and experience, and the stronger performance of out of town destinations reflects the fact that retail parks are successfully bridging the convenience-experience gap."
Simply put, the landlord who has the best asset in terms of how it looks, how it operates, the size, the quality of the public realm, the quality of the car park etc will be the top one or two that will survive.
Much of the current retail park stock is first generation, 1980s built assets, which are looking tired, out-of-date and do not respond to current demands. In order to survive and prosper, a comprehensive refurbishment has to deliver facilities demanded by the changing trends in retail park usage.
Although it's tempting to start with the aesthetic of the park, one of the key factors in a retail park's success is the choice it offers to the shopper. The change from 'big box' only shops such as DIY or furniture, to a mix of large and smaller units has imposed the need for the unit sizes to be equally flexible. Many historic units are now generally too large, and too deep at around 45/50m. Current requirements are generally for smaller units from 1,500 sq.ft to 7,500 sq.ft. Our design at the popular Retail World near Gateshead included five new retail units, ranging from 2,200 sq.ft to 2,700 sq.ft and are now let to retailers such as Card Factory, O2, Bells Fish & Chips and Costa, plus a planned KFC.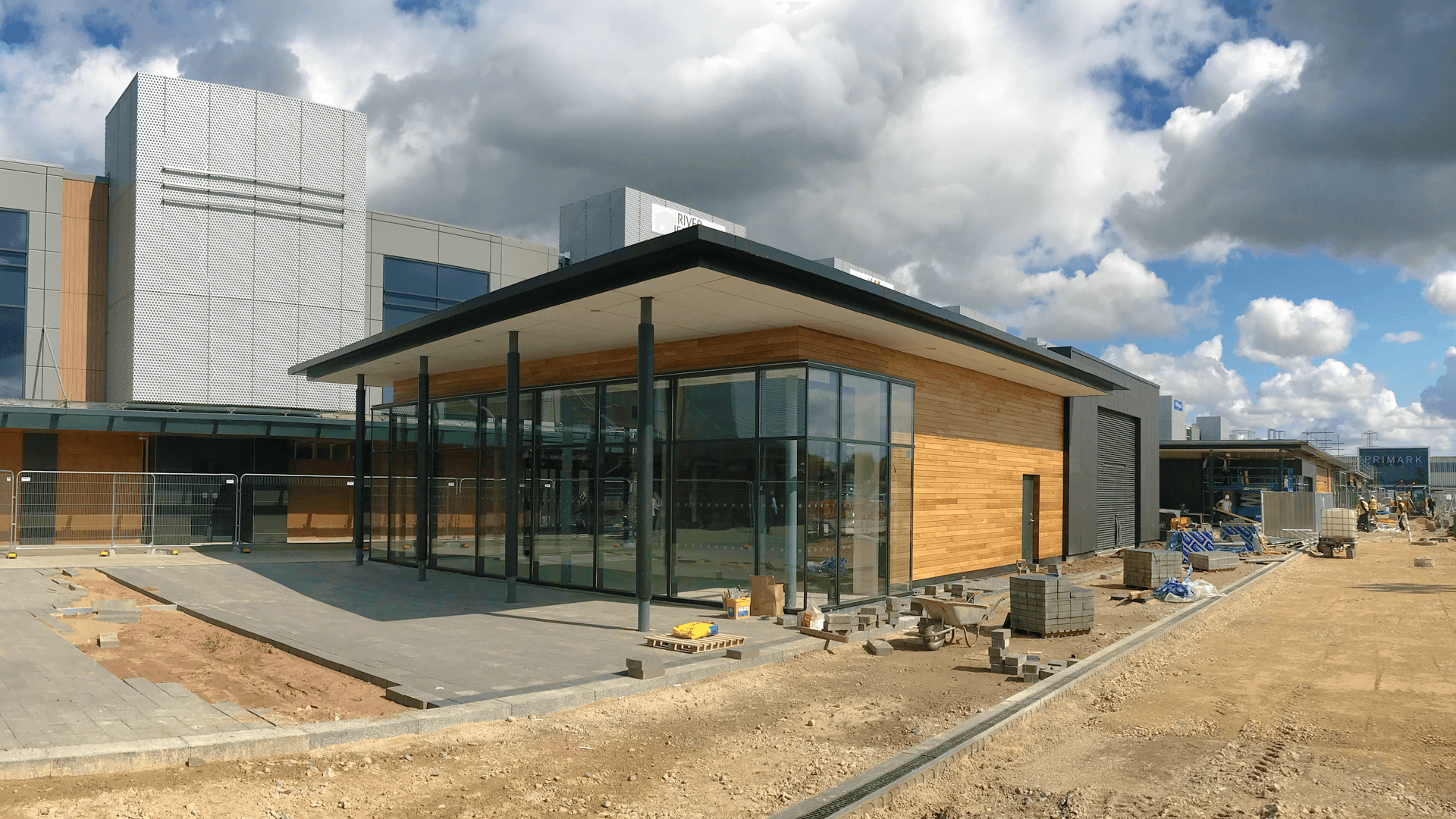 Work is currently underway to transform the façade at Monks Cross Shopping Park in York
Stay a while
Part of the changing aim of retail parks is to increase the feted 'dwell-time' by offering a range of activities to encourage the public to go beyond the commando-style 'get in, get item and get out again' mentality. In most cases, landlords look to make their park more shopper or family friendly, partly through improved public realm and partly by the range of its shops. In addition to improving the spaces around the more usual food and beverage units, we are currently putting forward designs that include more leisure activities such as playgrounds and climbing walls. The idea is both to keep adult and child happy and entertained and breaking up a longer shopping trip into manageable parts.
Creative use of the external public spaces can add to the feeling of safety, encouraging visitors to take their time. Simple additions such as integral timber benches in concrete planters, can provide places to rest when moving along the terrace. More involved design, such as at Retail World, use low level planting, 'rain gardens' and trees to create a haven, separate and partially screened from the traffic.
Many of our designs, for example the Monks Cross Shopping Park in York, are also now including open, flexible spaces to house occasional events such as farmers' markets or Christmas Fairs. Some of our current designs contain space to group 'pop-ups', short term leases on 'pod' or pop-up units that allow park owners to maximise their income. Pulling these together in an allocated space makes them a coherent element within the park design and avoids the feeling of disorder that comes if they are scattered across the space.
Getting in
The attractiveness of a retail park depends not only on its shops and facilities, but also on how it operates. Shoppers faced with long traffic queues or difficulty in parking will easily move to another park, further away but less hassle once they get there. Landlords can look at acquiring additional land, where possible, not only to add more floor space, but primarily to provide additional access routes and improve circulation. The easing of the traffic flow can substantially improve the attractiveness of the park, supporting tenants and improving its commercial viability.
Ample car parking does create its own problems. At parks which can house thousands of cars, it's important – harking back to the idea of user friendliness – to avoid shoppers being faced with an enormous sea of metal. At Team Valley the distances within the retail park are quite vast in pedestrian terms, so we introduced units in centre of the car park to break up the vista and create a pedestrian friendly safe zone, a 'respite island' that reduced the perceived distances and added interest and variety in the public sight line.
Access to car parking at a retail park has always been vital, but in recent years the growth of sustainable transportation has become an increasingly important element. Although ample car parking is still a must have, accessibility via public transport and facilities for alternatives such as secure bicycle racks and electric charging points have become the norm.
In the second part of this article, Dave will consider what makes a good design and how it can have a direct impact on the tenants' bottom lines.