Like many businesses throughout the world, Urban Edge had to adapt very quickly to the global Coronavirus emergency. Just prior to the pandemic taking its hold, our practice had already started to look at more flexible staff working arrangements and our investment in an IT infrastructure to ensure everybody could work successfully from home paid dividends. It ensured quick response rates and continuity for clients during lockdown, whilst also allowing our teams to collaborate and maintain a consistent level of service, understanding and creativity on projects.
As the vaccination programme gathered pace, Coronavirus replication numbers dropped and economic activity resumed at pace across the country, so we started to plan for the future. As an inclusive and supportive business, it was imperative that staff were fully engaged in the process through a series of group discussions to gauge their thoughts on home-versus-office working and the most effective way of operating moving forward.
Whilst there were inevitably a mix of ideas, it was apparent that most people wanted a return to the office for at least two to three days a week. The main reasons cited related to the social and cultural aspects of office life, as well as the need to more effectively collaborate.
Director, Tom McNamara, explains further: "Although video conferencing through Teams or Zoom proved effective throughout the various lockdown periods, it could never replace face-to-face interaction. Architecture is a collaborative and creative process that benefits greatly from in-person interactions within the design team. We thrive on being able to sit around a table as a team, brainstorming ideas with enthusiasm and reaching the creative conclusions for which we are renowned."
Taking into account the views expressed by staff, we conducted some remodelling on our current office space to see how it could be rearranged to create the optimal working environment. Whilst health and wellbeing were inevitably key considerations, it was clear that the office should no longer be just a place to sit at a desk, but a space to encourage culture and community, promote collaboration and improve operational efficiencies through the natural communication of information and ideas. Face-to-face interaction within the office environment, unlike an impersonal email or video communication, ensures better clarification and fosters quicker understanding, whilst also helping new staff to learn about the business and understand the way things are done.
"We had appointed some 13 new members of staff during the lockdown period," continues Tom, "and the shorter-than-usual induction periods and lack of office time necessitated by the 'Work from Home' mandate was tough on them. A return to the workspace means we now have the benefit of longer periods of induction in the office for new starters, allowing them to get to know people, understand a little bit more about the company culture and how the office works. Likewise, our younger and graduate staff can learn so much when they're in the office just listening to conversations and how other people deal with certain situations. So, whilst there are many benefits to working from home, there are also advantages to working in an office, such as building social connections, improved communication and understanding, increased productivity and career progression."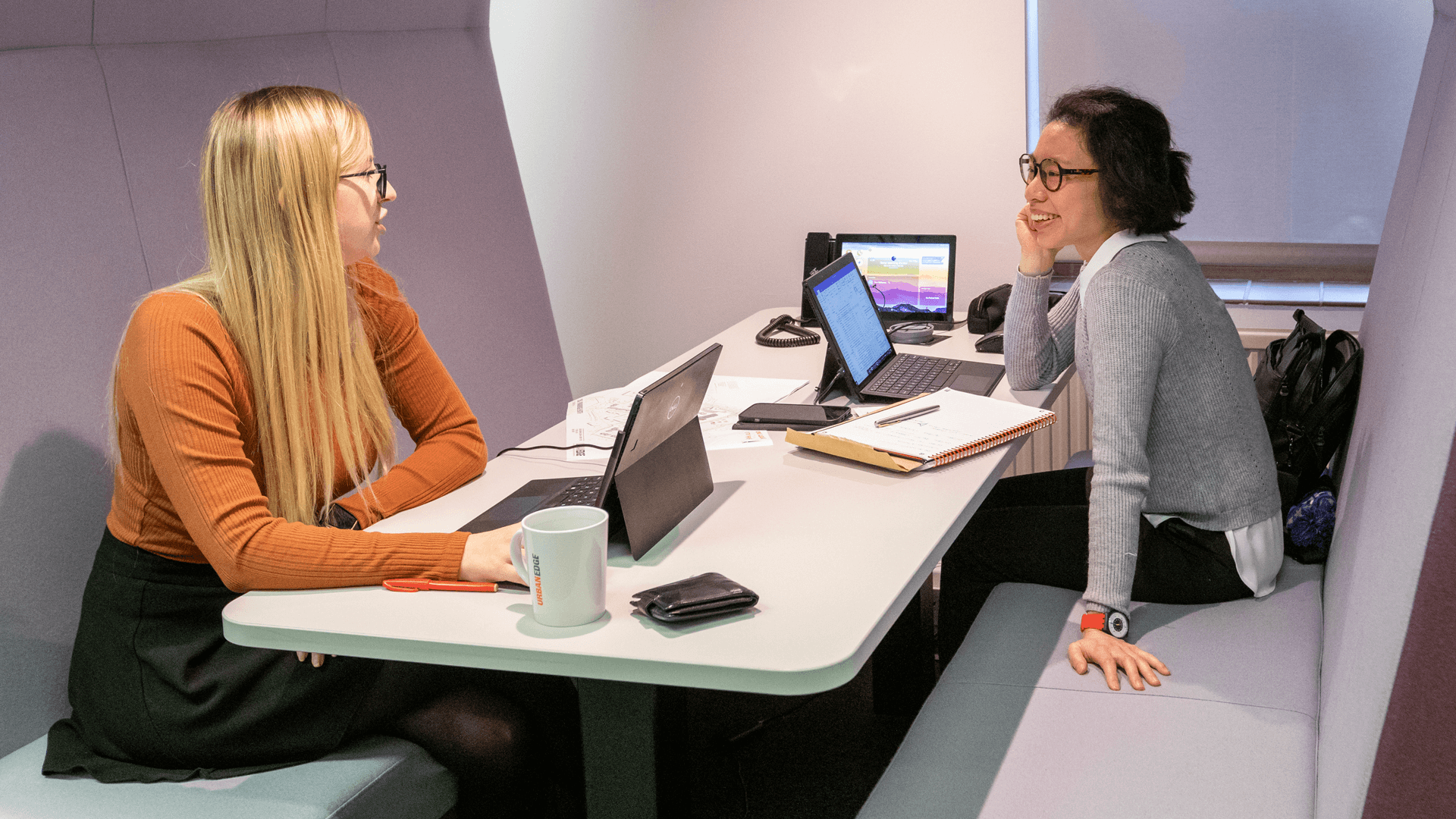 Two meeting pods have been installed enabling some privacy in an open office environment
Agile and flexible
During and between the lockdown periods, as staff transitioned to a hybrid form of working, desktop computers were changed to laptops to allow for more agility and flexibility in the face of a constantly evolving situation. These changes have also informed the new office layout, with some of the existing desk space removed from the main studio and given over to collaborative areas. At the same time, two large meeting pods have been installed – these offer acoustic attenuation and enable some privacy and quieter meetings whilst still in an open office environment.
Initially, following the office refurbishment, around half of the existing desk space was removed, but careful analysis of use-pattern data has seen the ratio of desk space increased to two thirds of the original number to ensure maximum efficiency. The desks have been optimised for hot desking, with docking stations and adjustable monitors to allow staff to create their own bespoke workspace. There are also a mix of different workspaces, suitable for particular tasks or workflow that staff can book via their mobile or laptop using an app called WiggleDesk. We are proud to be an early adopter of the innovative desk-booking tool that was devised by former Google data scientist William Wildridge.
"As a forward-thinking practice, we're thrilled to be trialling technology that harnesses the power of AI and data visualisation to allow us to operate with maximum flexibility and maintain a safe environment," explains Tom. "The app allows you to see what desks are available on each day, book and unbook the appropriate space for your requirements; it also includes reminders to clean your workstation once you've finished, reinforcing all the important hygiene messaging that people expect and understand in this post Covid world."
From informal to formal
Our second office on the other side of the Scotgate Mews courtyard has also undergone a significant makeover. Previously a more traditional office set up, the new space has been designed purposefully with maximum flexibility in mind, and can be used as both a conference suite and breakout area for staff. Flexible seating and desks can be arranged for more casual interactions or informal meetings, but can easily be adapted to create a more traditional and formal meeting space. The inclusion of a large interactive screen will allow clients or staff working remotely to join design team meetings and allow for more dynamic presentations once clients and other design team members return fully to in-person activity.
The courtyard itself – weather permitting – is also a useful break-out space and can be used for informal staff meetings and events. During the summer, the practice used the courtyard space to gather all staff together in person, discuss the highs and lows of the previous year and update them on the reconfiguration of the offices. Following a year largely working from home, it was also a useful period for staff not only to reacquaint themselves with each other, but get to know some of the new starters.
"After such a long period working remotely, we fully understood that some people might have some anxieties about returning to the office. Having the ability to reconnect everybody outdoors in a socially distanced way – yet also still within the realm of the offices – was a great way to reintroduce staff to each other and help ease any anxieties about returning to the workplace. For new members of staff who joined us during the lockdown period, this was also their first opportunity to meet everybody in person. It proved to be an incredibly positive day."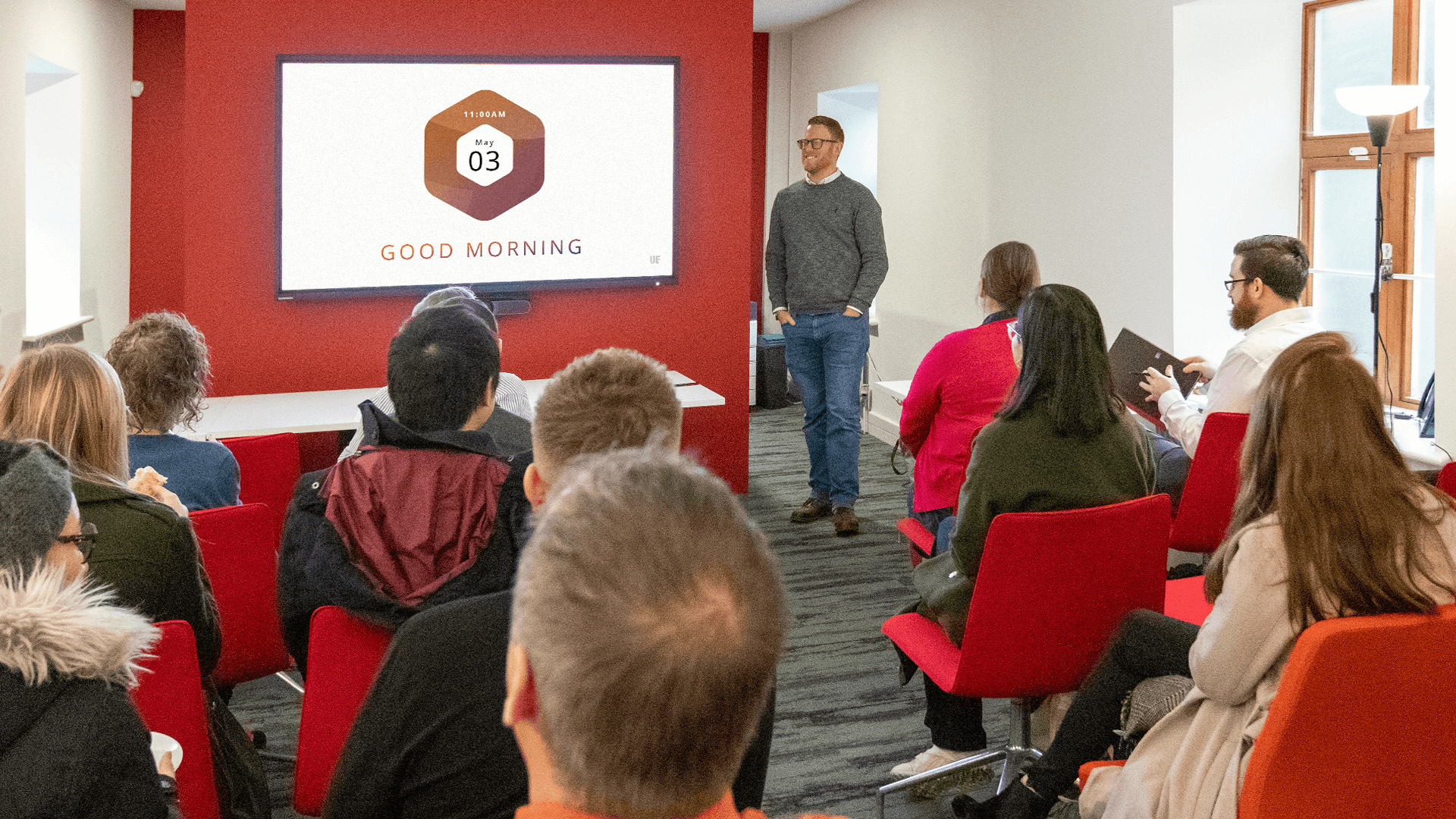 Our second office, 'The Workshop', has also undergone a significant makeover
Community benefits
Whilst the practice works nationally, we have always cared passionately about the town and region where our offices are located and have always sought to give something back to the area that has contributed so much to our success. Reaching out to the local community through local social groups and networks, all the surplus fixtures and fittings, including chairs, desks and cabinets, were given new homes locally.
We have also donated the studio's previous large interactive screen to the Bourne Arts and Community Trust where it will be used at the charity's base, the Grade II Listed Wake House in Bourne which serves as a Community Centre with a variety of rooms to hire for groups, events and meetings.
Desktop PCs that were replaced by laptops have been offered to staff for a nominal fee, with the proceeds going to the Urban Edge Foundation – a charity set up to raise funds and awareness for established charities such as The Alzheimer's Society and Prostate Cancer UK.
Where new office furniture has been introduced, every effort has been made to source recycled or upcycled products from local suppliers.
Social and cultural context
There has been much conjecture about the future of the office amongst business leaders and the media alike over the last two years. The reality is that the office is here to stay, but perhaps not in the same way that it existed pre-pandemic. As we have found through our own experiences, an attractive office must now be more than just desks, chair and computers, and as much about social and cultural context.
"As we emerge from the pandemic, there is a lot of positivity around our growing pipeline of work and the growth of the business moving forward," says Tom. "Our office will play an essential role in the future of Urban Edge, not just as a physical manifestation of the business, but as our cultural heart. A place where we can connect and collaborate, teach and learn, progress and build. A place where a special kind of alchemy occurs to create innovative solutions for clients and personal and professional fulfilment for staff."