As designers we should ensure the residents of senior-living developments are encouraged towards positive behaviours. We should do this not by controlling their environment and focusing solely on safety and reducing risk, but by providing a range of opportunities to continuously take part in active life in an integrated, wider community setting.
Generally speaking, there are two reasons why people move to housing within care developments. First of all, they value the lifestyle connected to enhanced facilities and public spaces; and, secondly, they value the safety and security of the future care provision. Whilst most residents might not have a need for care when first moving to a retirement community, they want to be safe in the knowledge that they will be supported should their needs change. However, it is our tendency to focus on the elements of safety and security in senior living and care home design that conversely, in my view, could have long-term negative impacts on the wellbeing of residents.
In October 2008 the New Economics Foundation was commissioned by the Government's Foresight project on Mental Capital and Wellbeing to develop a set of five evidence-based actions1 to improve personal wellbeing. Whilst feelings of happiness, contentment and engagement are often cited as characteristic of someone who has positive life experiences, equally of importance for wellbeing is our functioning in the world. According to the NEF report, experiencing positive relationships, having some control over our lives and having a sense of purpose are all important attributes of wellbeing.
Yet in our attempts to deliver technically perfect and safe senior-living and care home environments, we seriously risk designing out those very opportunities that encourage residents to become active and aware, form positive relationships and have some control over their own lives.
The problem, in part, is our strict adherence to near 30-year-old best practice guidance, the primary intent of which is to deliver design solutions that minimise or avoid risks to residents rather than to develop solutions to improve residents' lives. Equally the rules and regulations that we have at the moment are principally aimed at the care end of the spectrum, yet with so many different models of senior living now on the market and targeted at different ages, abilities and lifestyles schemes cannot – and should not – all be designed in the same way. Whilst we clearly have building regulations and standards to which we must adhere, these standards and regulations should not drive the design of the schemes that we create.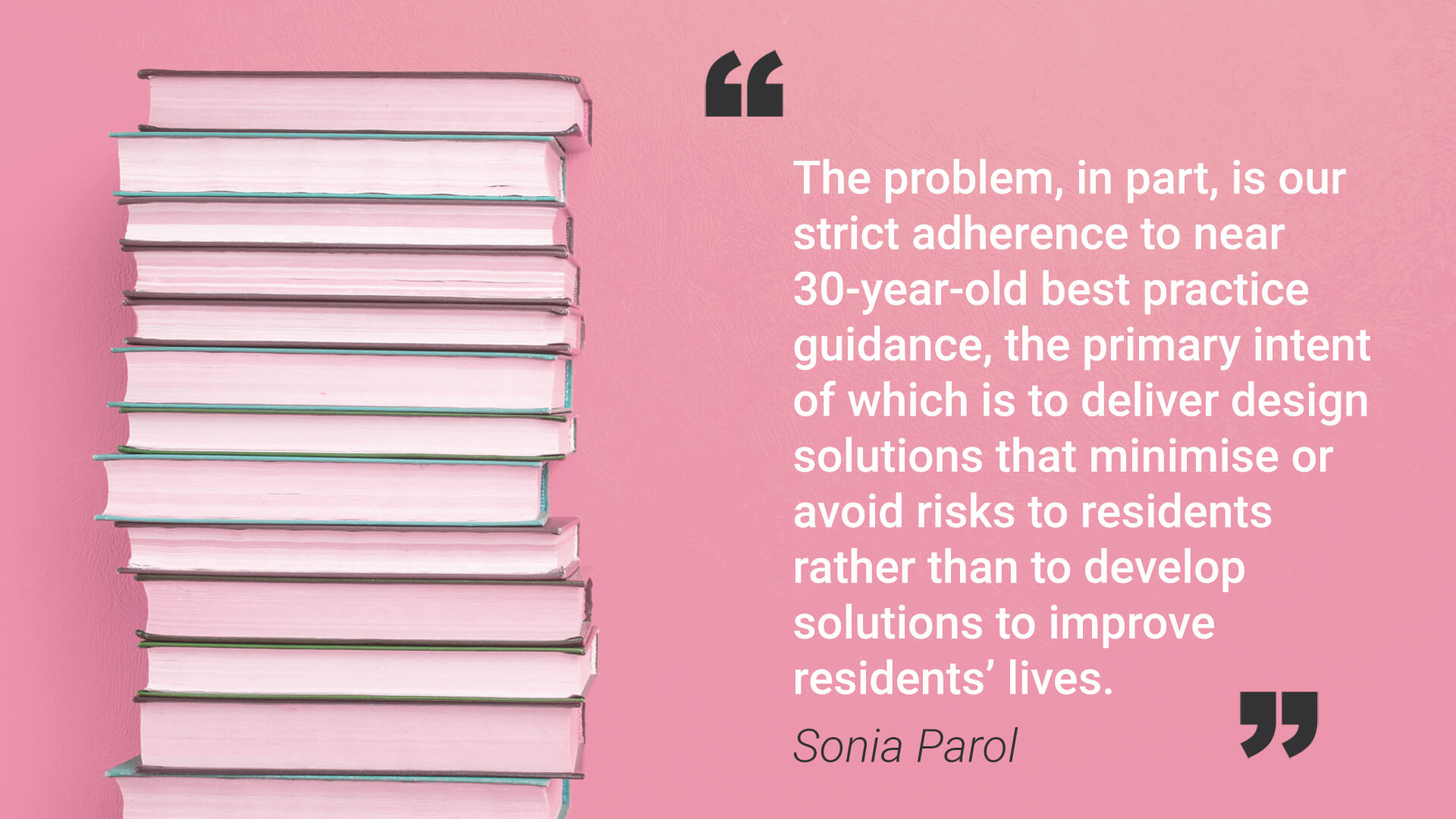 It concerns me that we do not often challenge the rules and considered norms in the UK senior living and care sector. We have focused on creating safe and attractive environments, but still within the same standard concept of a nursing home. In other words, we are just wrapping the same concept in nicer material.
We still have a cluster of bedrooms with one lounge, a quiet lounge and a dining room. We might add a shop or a hairdresser, but they are only available to the residents and only accessible via an internal lift – residents don't have to put a coat on, they don't have to walk far, they don't see anyone other than carers at the hairdresser or the shop. We are still worried about their interaction with other people, we want to keep them safe and in a completely risk-free environment. When you stop to consider it, this is about as far from a 'normal' environment as possible and residents have few opportunities to experience positive relationships or have some control over their lives. We should always aspire to do better and we can only do that if we focus on the residents we are developing for. If you think about the people who are going to live in the space that you are designing, then you start thinking about their wellbeing and how you can create truly sustainable communities.
So where to start? During our workshop at last years' Housing LIN annual conference, we asked what the future of senior-living schemes should look like. We got great feedback from people attending our seminar and the main message was that we should create spaces that work for everyone, no matter what their background or age; an inclusive environment that allows people to connect with each other.
That care and senior living schemes ought to be integrated into the local community with the ability to share facilities where practical, is something I learnt whilst working on vertical villages in Sydney, Australia. I learnt that people should be able to continue to lead an independent lifestyle where they can easily access shops, restaurants, cafés and other forms of retail and leisure whenever they choose. These 'vertical villages' allowed their 65-year-old and older residents to have easy access to the Sydney Opera House, Darlington Harbour and the public transport of ferries at the Circular Quay.
It is my view that we should aim to create truly intergenerational communities that include care home, assisted living apartments as well as student accommodation and a crèche – actively encouraging social connection, where young and old can live side-by-side, benefiting from the social, cultural and economic opportunities of multigenerational living. As an example, a recent report by United for All Ages suggests that twinning nurseries with care homes encourages older people to engage in physical activity by playing with children and enjoying the spirit and joy that they can bring to their home environment. Interaction with children helps lessen symptoms of loneliness and isolation in older residents who gain a new sense of self-worth, an opportunity to transfer knowledge and the ability to serve as role models; whilst children who regularly mix with older people see improvements to their language development, reading and social skills.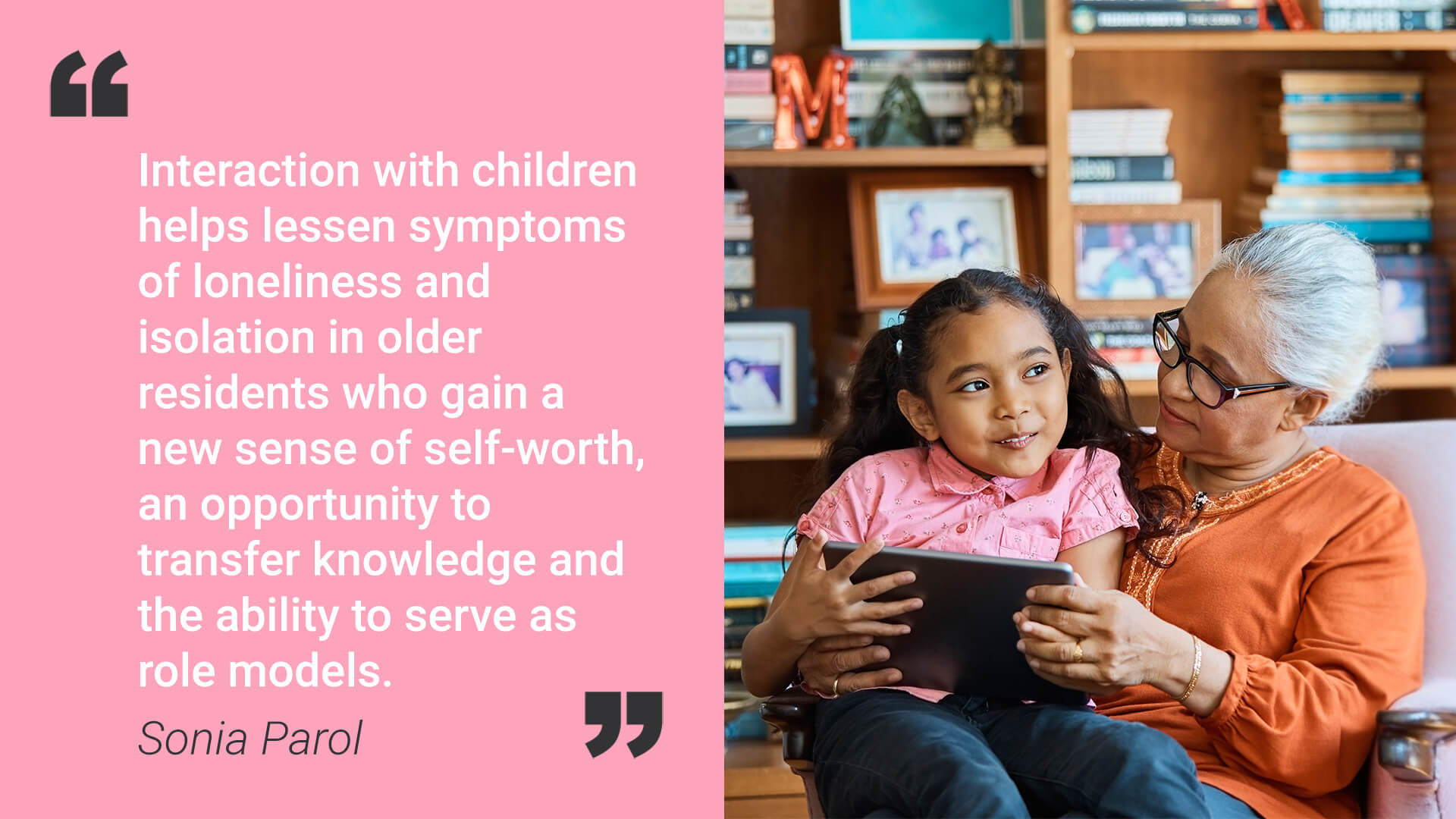 In looking to push beyond the norms, we have looked to apply some of my learnings from Australia, as well as observations from European care homes and villages in Copenhagen, Hogeweyk and Deventer, at a truly multigenerational mixed-use scheme in the UK. We focused our design on provision of diverse public open spaces, including a variety of accessible green spaces such as play areas, allotments and outdoor eating areas to support wellbeing. Providing facilities and interest in public open spaces such as outdoor seating increases potential for social interaction and extends the use of space. In the case of care homes or dementia facilities, if physical connection is challenging we could provide visual connection where residents of the care home can see and hear children playing.
Whilst focusing on shared public areas we must also consider the provision of private space, enabling residents to have a choice to participate in community daily life or retire to tranquil, more private space. As people's situations change with age, they may progressively need a calmer, more private environment. The older years are a particularly vulnerable time; physically and psychologically, therefore we made sure we provided here safe, semi-private and private spaces to reduce levels of distress and insecurities. This can be still achieved whilst providing the visual/aural connections with the outside world.
As we age we lead an increasingly sedentary lifestyle, encouraging a modest level of activity becomes important in order to improve cardiac health and maintain general fitness. Moving up and down stairs is a simple and effective solution. On the other hand, for those who are physically disabled or are wheelchair users, we made sure that our design accommodated their needs. Our design considerations incorporated strategies to ensure that partners and carers of wheelchair users are encouraged to remain active too. Clearly such a lot of social connection and activity is dependent on the operators, their staff and the residents themselves – but architecture can encourage everyone's wellbeing – and happier staff means they will be attracted, retained and be more productive and supportive of residents.
Looking at the bigger picture, it could be argued that the overall residential sector in the UK lacks vision and innovation. In other sectors, where the status quo has been challenged, we have seen the design and delivery of some fantastic, cutting edge buildings, particularly in leisure, retail and workplace. Yet the residential sector has changed little. There are new houses being built that are not suitable for young families, whilst at the opposite end of the scale there are many older people struggling with homes that were not designed for ageing. The lack of joined-up thinking and forward planning, as well as a failure to understand and design for the changing social needs of residents has seen the segregation of generations continue a pace and communities fracture. Not only are shared and social spaces important for physical and mental health and wellbeing, but they will also be considered a necessity for the next generation of senior citizens who want to continue to play an active part in society.
Within the senior living sector, care and dementia care present the biggest challenges for connected living, yet examples in Australia, Copenhagen and the Netherlands, as well as our own efforts here in the UK to explore the benefits that can come from social connection and multigenerational living, prove just what can be achieved if we begin to challenge the expected norms. And if we can see the benefits even in these most challenging environments, then applying it to other areas of residential development should be very easy.